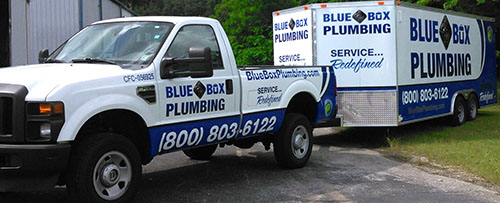 Blue Box plumbing services company is a Affordable, On Time plumbing and drain cleaning service. After close to two decades of servicing Tampa, we are proud to say Blue Box plumbing services is here, day or night.
We have the experience on staff to handle any emergency. From water heater problems to drain cleaning service, we are here to help with affordable plumbing solutions. Blue Box Plumbing is committed to helping customers with any repair, drain cleaning service, water leak detection or any other plumbing services that may be needed.
Having the parts and equipment on every vehicle to take care of most plumbing problems, we strive to get the job done right the first time. There's not a plumbing repair or drain cleaning service issue that our trained plumbers can't handle.
Our Goals

Environmentally responsible: There are many things companies can do to help our environment and these are a couple of the little things we are doing to help. At Blue Box Plumbing services, we have paperless job orders, estimates and invoices that are sent directly to customers via email from our field tablets. All of our transactions are virtual and secured by point of sale encryption. If an invoice needs to be sent manually, our office can accommodate this by customer request.

Prepared, Equipped and Efficient: All of our vehicles are equipped with the tools necessary to complete a majority of plumbing repairs and any type of drain stoppage without need to reschedule or leave the job. Effectively reducing wait time and work time, having the proper parts and drain cleaning equipment makes work quick and efficient. We try to handle as many of our everyday simple estimates as we can via phone or email to help reduce customer wait time and emissions. We also take as much of the waste generated by our service calls back to our supply house to be recycled to reduce what goes to our landfills. We know it's not much but every bit helps and we are striving to do our part.
Our Vision
We didn't set out to re-invent the wheel, our vision is simple: To put "service" back into customer service we want our customers to remember us for our courteous plumbers, the efficient plumbing service, and the quality plumbing repair and drain cleaning services done right the first time.

Believe it or not our vision actually started around our plumbers, the hiring process starts with a background check and drug screening, for customer safety and protection. When hired they train in the art of professionalism and are treated like the professionals they are. When employees have the tools, equipment, and parts they need at their fingertips they make less trips to the supply house and are more efficient in getting the job done, our office staff is also as professional having to undergo the same process. The combination of professional employees, quality work, less customer time consumed, reasonable cost, and on time appointments we hope results is a higher customer satisfaction and customer retention.