Sewer and Drain Cleaning Services Florida
Do you have a slow or clogged drain in your bathroom, kitchen or utility room? Slow drains don't get better over time. They continue to collect debris and can create serious plumbing problems in the home. Blue Box Plumbing delivers Fast, Affordable and Effective Sewer and Drain Cleaning Services 24 hours a day.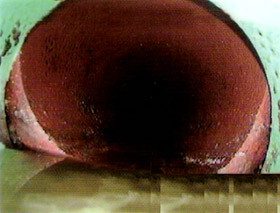 Blue Box Plumbing utilizes the latest tools, technology and drain cleaning solutions to eliminate any stoppage in your plumbing system. Our Plumbers are skillfully trained and qualified in the work they do. They provide the same level of expertise for your Tampa drain cleaning service that they do in their own homes. Sewer and Drain Cleaning Services from Blue Box Plumbing is always guaranteed.
Not all Tampa plumbers take the time and effort Blue Box Plumbing invests in, to satisfy our customers.
We always do our very best to arrive on-time and promise to always show up in a clean uniform (not just at the beginning of the day). We always wear shoe covers when entering your home and use drop cloths at our work sites to reduce the amount of clean-up needed when we finish with your plumbing problem or Sewer and Drain Cleaning Services.
Our customers also enjoy the added benefit of flat-rate up-front pricing. Some plumbers charge by the hour and waste valuable time just to inflate your bill. At Blue Box Plumbing you approve the plumbing or Sewer and Drain Cleaning Services cost before we even begin.
Our licensed, Insured, and trusted certified plumbers are available when you need us most!
Blue Box Plumbing is one of the finest residential plumbing companies in Tampa because we offer customers prompt, affordable and reliable service that is second to none.
---
Why Wait?
For more information on drain cleaning in the Tampa-Bay area, please contact us.
800-803-6122
Our plumbers proudly serve the drain cleaning needs of Tampa, and we're ready to serve yours.

Types of sewer pipes we encounter everyday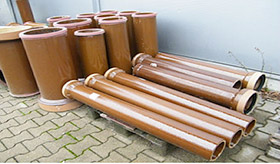 Vitrified clay pipe (VCP) is pipe made from a blend of clay and shale that has been subjected to high temperature to achieve vitrification, a process which results in a hard, inert ceramic. VCP products use clay as a major component in its production, making its raw materials environmentally friendly. The manufacturing process has been fine-tuned for centuries and was designed to be fiscally responsible which had the added benefit of being environmentally responsible. The primary benefit (both environmental and fiscal) of using VCP in sanitary sewers is its long service life.
Orangeburg pipe (also known as "fiber conduit", "bituminous fiber pipe" or "Bermico") is bituminized fiber pipe made from layers of wood pulp and pitch pressed together. It was used from the 1860s through the 1970s, when it was replaced by PVC pipe for water delivery and ABS pipe for drain-waste-vent (DWV) applications. The name comes from Orangeburg, New York, the town in which most Orangeburg pipe was manufactured. It was manufactured largely by the Fiber Conduit Company, which changed its name to the Orangeburg Manufacturing Company in 1948. Orangeburg pipe was once manufactured here. Before plastic pipes, it was the standard alternative to metal pipes, especially for sewer and outdoor drainage applications.
The Brown Company, also known as the Brown Corporation, was a pulp and papermaking company based in Berlin, New Hampshire, United States. They closed their doors during the 1980s. Under the name Bermico, a type of pipe that were produced in the 1920s-1970s. The useful life for an Orangeburg pipe is about 50 years under ideal conditions, but has been known to fail in as little as 10 years. It has been taken off the list of acceptable materials by most building codes. It was observed in early usage that Orangeburg was susceptible to deformation from pressure. Deformed Orangeburg has been referred to as "egg-shaped" and is subject to blistering. Thus, manufacturers urged "bedding" the pipes in sand or pea gravel to prevent rupture.

Cast iron pipe is a pipe which has had historic use as a pressure pipe for transmission of water, gas and sewage, and as a water drainage pipe during the 19th and 20th centuries. It comprises predominantly a gray cast iron tube and was frequently used uncoated, although later coatings and linings reduced corrosion and improve hydraulics. Cast iron pipe was superseded by ductile iron pipe, which is a direct development, with most existing manufacturing plants transitioning to the new material during the 1970s and 1980s. Little cast iron pipe is currently manufactured.

Roughly half of the world's polyvinyl chloride (PVC) resin manufactured annually is used for producing pipes for municipal and industrial applications.In the water distribution market it accounts for 66% of the market in the US, and in sanitary sewer pipe applications, it accounts for 75%. Its light weight, low cost, and low maintenance make it attractive. However, it must be carefully installed and bedded to ensure longitudinal cracking and overbelling does not occur. Additionally, PVC pipes can be fused together using various solvent cements, or heat-fused (butt-fusion process, similar to joining HDPE pipe), creating permanent joints that are virtually impervious to leakage.